Previous Projects
Interested in taking part in a club construction project? Please visit the current Club Projects web page, which includes the FMT Morse Tutor.

For interest, below is information about the SW+ project that took place some years ago.
Small Wonder Labs SW+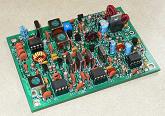 In 2006 and 2007 Paul M0BMN ran a club project where members built the Small Wonder Labs SW+ single band transceiver from the USA. It's a great little set that gives around 2-3 watts of output and covers around 30-40KHz of whatever band you build it for (80m, 40m 30m or 20m). Costs were around £50 including postage (full kit and box).
Sadly, SW+ kits ceased to be available from March 2012 due to Dave Benson winding down Small Wonder Labs, which finally closed in October 2013.
SW+ Project Build pages: full colour Building guide in stages, a great help to the novice builder!
Back to
Members' Area
page