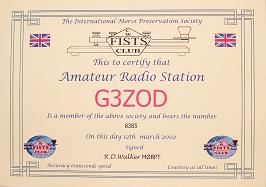 Order Replacement Member Certificate
For members of FISTS in Europe only:
If your member certificate is lost or damaged and you would like to replace it, we can provide a new one for £2.50 (GBP) to cover packaging and delivery to a UK address.
For details of delivery outside the UK, please send an email to

.
Pay by Cheque
You can pay by a cheque drawn on a UK bank made out to
FISTS
. Please write your
callsign
or Short Wave Listener ID on the back of the cheque.
Please
remember to include your address, member number, name and callsign. If you have some idea of the date you joined, please include that too. Send to:
Member Certificate
FISTS
PO Box 6743
TIPTON
DY4 4AU
Pay by Credit Card or Debit Card
To pay by Credit Card or Debit Card, use the PayPal
Buy Now
button below. When you checkout, just provide your card details and ignore the PayPal account details.
Pay by PayPal
Please
type in your member number, name and callsign. If you have some idea of the date you joined, please include that too, then click the
Buy Now
button: